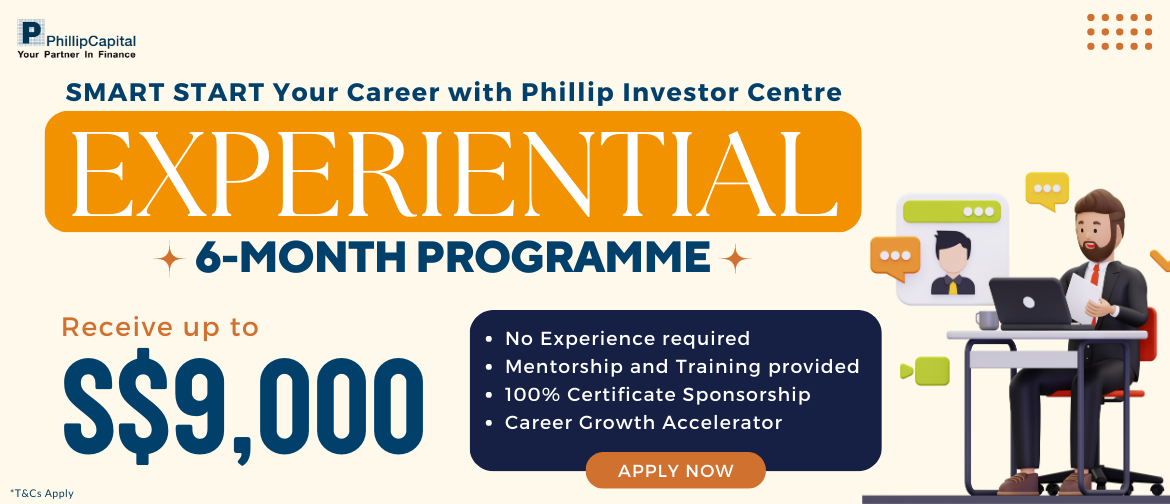 Phillip Investor Centre Experiential Programme
Empower Your Journey to Become a Skilled Financial Representative
Welcome to the Phillip Investor Centre Experiential Programme, where your path to becoming a successful expert in Financial Representative begins. The Phillip Investor Centre Experiential Programme aims to nurture and develop the next generation of skilled Financial Representatives who are poised to make a meaningful impact in the world of finance. We understand that theory is only part of the equation; that's why our Programme is built around hands-on experiences and practical applications. Through a unique combination of immersive experiences, expert mentorship, and comprehensive training, we are committed to nurturing your potential and guiding you towards excellence in the financial advisory field.
Why Choose the Phillip Investor Centre Experiential Programme:
Real-world Experience: Dive into hands-on scenarios to apply theoretical knowledge to practical financial cases.
Expert Mentorship: Learn from seasoned Financial Experts, gaining insights from their wealth of industry knowledge and experience.
Comprehensive Training: Master sales techniques, financial planning, and product knowledge for an impactful advisory role.
Networking Opportunities: Expand your professional circle by connecting with industry experts, successful advisors, and potential clients.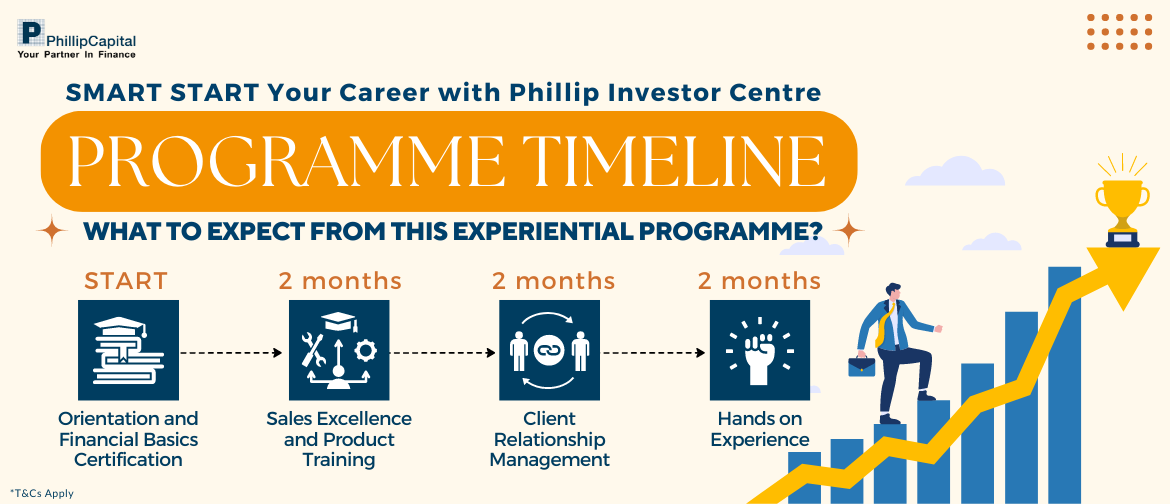 Unlock Your Potential with us!
Prospective candidates will undergo a meticulous selection process to determine their compatibility with the Experiential Programme. Once selected, candidates will engage in a 4-week intensive study phase, which serves as a robust foundation for their eventual journey upon completion. This will be followed by an enriching 6-month workplace attachment, divided into three different phases every two months, to provide them with first hand exposure to the intricacies of the field.
The Experiential Programme follows a well-defined career progression roadmap, harmoniszing with our comprehensive talent development strategy. Throughout their attachment, the participants will be expertly guided by a dedicated mentor, for a supportive and immersive experience.
Upon successful completion of the Experiential Programme, the candidates will be conferred with industry-recognized certificates and/or licenses, in line with our commitment to nurture exceptional talent, outstanding performers will have additional exposure to diverse avenues.
TERMS AND CONDITIONS
By clicking "Submit" for the above Experiential Programme, you consent to Phillip Securities Pte. Ltd. ("PSPL"), collecting, using and disclosing the personal data for purposes reasonably required for the purposes of the Experiential Programme. The Programme is open to:
Singaporean / Singaporean PR
Applicant must be 21 years of age and above
CONSENT TO USE OF YOUR PERSONAL DATA
By clicking "Submit" – for the above Experiential Programme, you agree to send your info to Phillip Securities Pte Ltd (PSPL) and let PSPL use it according to their Privacy & Security Policy:
consent to PSPL transferring your personal data collected for the purpose of your Experiential Programme application;
consent to PSPL collecting, using, disclosing and/or processing your personal data for the purposes as described above;
consent to PSPL collecting personal data about you from sources other than yourself and using, disclosing and/or processing the same, for the purposes as described above;
consent to PSPL sharing your personal data to relevant participating departments and/or agents, for the purposes as described above; and
represent and warrant that you have read and understood the above provisions.
You understand that you are entitled to withdraw your consent for the collection, use and disclosure of your Personal Data by notifying the Data Protection Officer ("DPO") of PSPL (customercare@phillip.com.sg) in writing or call our Customer Experience hotline at 6531 1555. You also understand that by withdrawing your consent may mean that PSPL is unable to proceed with your application for the Experiential Programme.