SINGAPORE, 21 July 2020 –  Phillip Securities, the brokerage arm of PhillipCapital has  announced the release of an online Discovery module, a new service that uses AI technology to match trading opportunities of the top listed companies of the world to investors using its online trading platform, POEMS.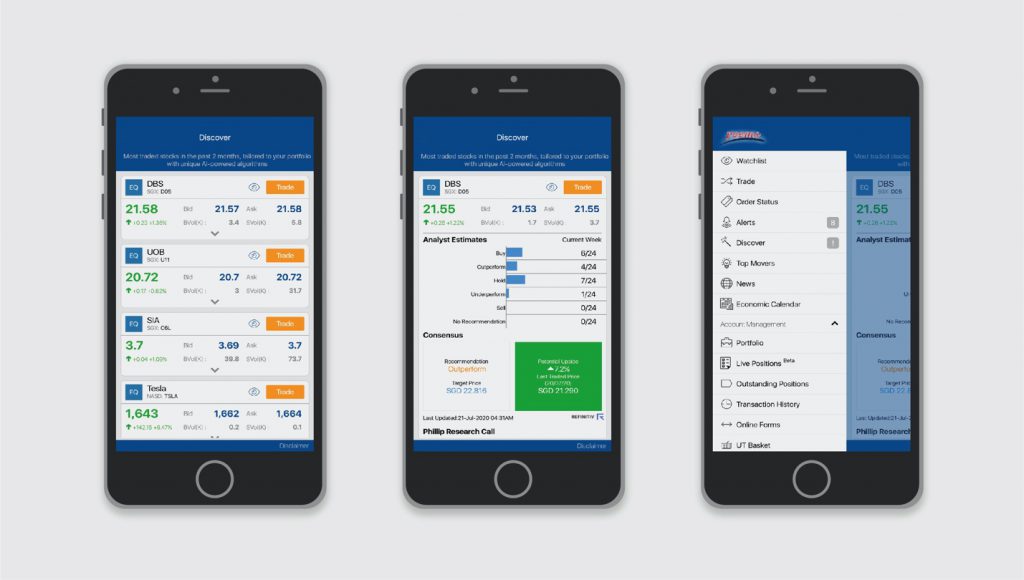 This new feature, completely AI driven with no human intervention, is made possible through the multifaceted algorithms designed by Phillip Securities's data science team. Investors can use this new tool to discover trading opportunities and learn about new stocks, saving them valuable time.
"We want investors to seize good trading opportunities. We want to make trading opportunities more prevalent to everyone. From new investors to seasoned traders, clients may find new ideas to diversify their trades," according to Xia Jianyun, Head of Phillip Securities' Active Trader platform. "Discovery module adapts to traders' holdings and behaviour and highlights relevant stocks. We are excited by the capabilities this function provides to enhance clients' trading experience."
During the first month of its launch in June, 30% of POEMS' users have shown interest by checking more details on the new stocks presented in this module.
How does our AI discovery module work?
Investors buy and sell shares on POEMS platforms. Counter pairs are then assigned correlation factors and are mapped out in a vector to determine how closely linked they are. Even clients who have not traded before stand to benefit from this feature. Based on the trading data from our clients, popular counters will be shown to kick start their trading journey.
Some of the algorithmic methods deployed include collaborative filtering and content-based filtering. This data driven approach is void of human bias which is hard to avoid in stocks identified through technical analysis and so on. As trade experts have the tendency to focus on their areas of interest, they may sometimes overlook certain trade signals or correlations between counters. This does not apply to this AI discovery module as the algorithm behind it is impartial to industries and produces results based on analyses of large data sets.
As the largest non-bank backed retail broker in Singapore, Phillip Securities' algorithms tap into a huge pool of data to generate reliable insights.
Just like the stock markets that ebb and flow, the discovery module constantly updates itself based on clients' trading behavior, thus maintaining its relevance.
About PhillipCapital
A member of PhillipCapital, Phillip Securities Pte Ltd offers a comprehensive suite of financial products and services includes broking in securities, futures, foreign exchange, bonds, precious metals and commodities, unit trusts, contracts for difference, exchange traded funds; fund management, managed accounts, insurance planning, regular savings plan, investment research, equity financing and property consultancy. Institutions can also benefit from our corporate finance and advisory services as well as information technology solutions.
Since our inception as a stockbroker in 1975, PhillipCapital has grown into an integrated Asian financial house with a global presence that offers a full range of quality and innovative services to retail and high net worth individuals, family offices, as well as corporate and institutional customers.
Today, PhillipCapital headquartered in Singapore, operates in the financial hubs of 15 countries, including offices in Australia, Cambodia, China (and Hong Kong SAR), France, India, Indonesia, Japan, Malaysia, Singapore, Thailand, Turkey, UK, UAE, USA and Vietnam, serving over 1 Million clients with Assets Under Management of total more than USD 35 Billion.
Find out more about us here https://www.phillip.com.sg/ and our award-winning trading platforms here https://www.poems.com.sg/.
Issued on behalf of Phillip Securities by Marketing Communications Department.
Media Contacts:
Karyn Low
Marketing Communications
+65 9852 1728 | karynlowpl@phillip.com.sg
Jed Teo
Marketing Communications
+65 9128 3709 | jedteows@phillip.com.sg