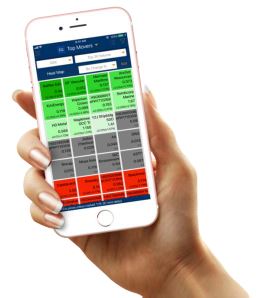 Singapore, 7 th November 2017 – Phillip Securities today announces the launch of POEMS Mobile 2.0, a multi-asset, multi-market mobile trading app designed for traders on the go. With POEMS Mobile 2.0, customers can look forward to a better and more personalized mobile trading experience through the intuitive navigation and power of customization.
The key features of POEMS Mobile 2.0 include Top Movers Heatmap, Integrated Account Management and POEMS Alerts. Phillip Securities is the first broker in Singapore to offer customers mobile heatmap for global exchanges and top performing funds. Top Movers Heatmap allows customers to identify and track daily performance of market movement for Equities and Unit Trusts.
With Integrated Account Management, customers can access their multi-asset Portfolio, Outstanding Positions and Transaction History with one login. Online forms for currency conversion and cash withdrawal are now available on POEMS Mobile 2.0.
POEMS Alerts are also now available for all asset classes (except Futures) on POEMS Mobile 2.0. Customers will be alerted on price movement, order status, promotion and account related transactions anywhere they are.
Started in January 2015, Phillip Securities set up an UX (User Experience) team and went through a series of comprehensive UX ideation workshops to better understand and define the best UX for customers. Phillip Securities has also spent more than 20,000 man hours to ensure that users' feedback is analysed and taken into consideration during the development phase.
"Built from ground up and guided by UX best practices, POEMS Mobile 2.0 is simple to use, pleasing to the eyes and has many newly added features suggested by users. We believe our customers will find more than one aspect of POEMS Mobile 2.0 that they love about," said Mr Luke Lim, Managing Director of Phillip Securities.
POEMS Mobile 2.0 app is now available on the App Store and Google Play . For more information on POEMS Mobile 2.0, visit https://www.poems.com.sg/mobile.
Background on POEMS
Phillip's Online Electronic Mart System, or more commonly known as POEMS, is the pioneer for Singapore's online share trading. Launched by Phillip Securities Pte Ltd in 1996, POEMS offers investors a full suite of state-of-the-art trading platforms, ranging from desktop trading on the classic POEMS Internet and POEMS 2.0, POEMS Mobile applications, and POEMS Mercury.
Phillip Securities is Singapore's largest stock broker and a leader in the financial industry. Our awards and accolades range from being the Best Retail Broker Award1 , Most Preferred Stock Brokerage Firm (Gold)2 , Most Preferred Desktop Trading Platform3 , Most Preferred Mobile Trading Platform4 in 2017, Largest Broker (Winner)5 and Largest CFD Broker6 (Winner)5 . Our 40 years of consistent growth and innovation is a testament of our professional servitude to all our stakeholders including customers.
1 Best Retail Broker Award – SIAS Investors' Choice Awards 2017
2 Most Preferred Stock Brokerage firm (Gold) – ShareInvestor Awards 2017
3 Most Preferred Desktop Trading Platform (Gold) – ShareInvestor Awards 2017
4 Most Preferred Mobile Trading Platform (Gold) – ShareInvestor Awards 2017
5 Largest Broker (Winner) – Investment Trends 2010 – 2016 Singapore Broking Report
6 Largest CFD Broker (Winner) – Investment Trends 2010 – 2016 Singapore Broking Report
Media Contacts:
Karyn Low
Marketing Communications
+65 9852 1728 | karynlowpl@phillip.com.sg
Jed Teo
Marketing Communications
+65 9128 3709 | jedteows@phillip.com.sg