SINGAPORE, 10 JANUARY 2022 – Phillip Securities, the brokerage arm of PhillipCapital, has launched its POEMS Mobile 3 application offering innovative new features and an intuitive redesign of the platform's user interface, providing the tools and information to cater to the needs of the modern-day investor.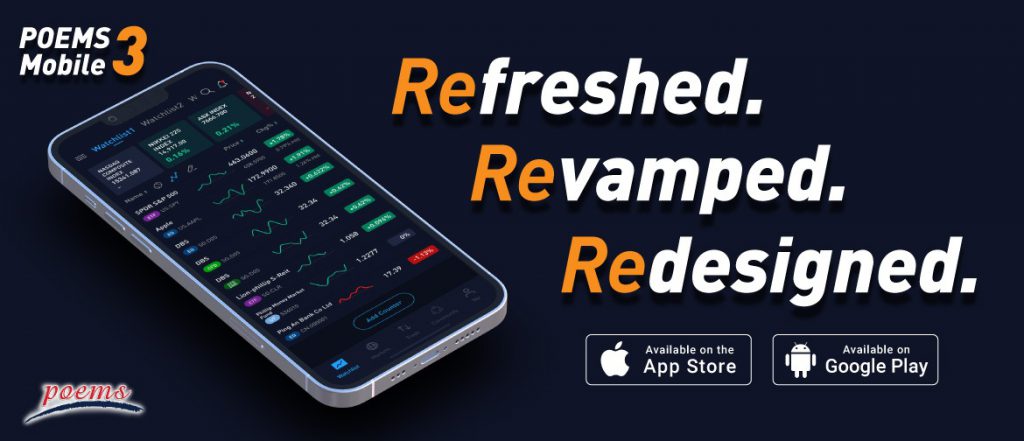 The new POEMS Mobile 3 features a revamped user interface and streamlined navigation layout and design.
The Covid-19 pandemic, alongside rapid technological advancements in recent years, has provided the backdrop for the evolution of the retail investment landscape. Investors now are seeking trading platforms that are highly customisable, intuitive, educational, and empowering – and POEMS Mobile 3 has been designed to cater to these demands.
Over the past two years, retail investing has skyrocketed in Singapore, with many people starting to trade for the first time during the pandemic. Account openings with Phillip Securities tripled in 2020 compared to pre-pandemic levels, partly due to consumers having more disposable income and more time on their hands.
Many new investors are also digitally-savvy, preferring swift, secure, and powerful mobile trading platforms, which allow them to receive insights and updates about the stock market on the go. Existing investors too have evolved in their trading habits with similar preferences – necessitating a trading platform that offers these functions and more.
The all-new POEMS Mobile 3 offers a revamped design and layout, so users can enjoy easy and intuitive access to features, information, and products, to achieve their financial goals. POEMS Mobile 3 now also offers customers access to leading charting tool TradingView, to perform comprehensive technical analysis with no platform fee. In addition to the App's features, an Equity Specialist is assigned to every account, to assist users in navigating their trading and investments, and to make informed decisions every step of the way.
EVOLVING TO IMPROVE CUSTOMERS' INVESTING EXPERIENCE
As the pioneer online trading platform in Singapore, POEMS has been serving the investing community since 1996. Luke Lim, Managing Director, Phillip Securities said, "Phillip Securities, has drawn from years of experience and understanding of the Singapore retail investing market, to consistently improve and update the POEMS platform to meet the evolving needs of investors. With an increased desire for both accessibility and information shifting the motivations and behaviours of investors today, POEMS Mobile 3 has been designed to empower our customers with an improved user interface, and tools to enable faster decision making and hence, trading."
Looking ahead to future plans, he added, "In our vision to make Phillip Securities and all members of PhillipCapital Group a Fintech organisation, we hope to continue working to make the online investing journey as seamless as possible for our customers, by educating new and existing investors on the rapidly changing financial market and empowering informed decision-making, through the additional support and guidance of trained advisors on our platform."
POEMS Mobile 3's new design features well-designed chart layouts and colour indications which allow customers to see the performance of top selected stocks, Exchange Traded Fund (ETF), Contract for Differences (CFD), bonds and Unit Trusts, as well as trading, orders, positions and account history all at a glance. The TradingView charting tool also allows customers access to more than 100 drawing tools and indicators to perform comprehensive technical analysis with an unparalleled charting experience.
As an integrated financial house, PhillipCapital continues to serve the investing community with hi-tech and hi-touch solutions, offering round-the-clock customer support via multiple platforms, and Phillip Investor Centres located throughout Singapore. The financial and trading advisor representatives also undergo continuous training to keep them close to the pulse of the market, and sharpen their advisory acumen for better client advice.
The homegrown POEMS platform also offers users access to 26 global exchanges, asset types unique to POEMS platform, as well as the best value at competitive prices.
For media enquiries, please contact:
Karyn LOW
Marketing Communications, PhillipCapital
e. karynlowpl@phillip.com.sg
m. 9852 1728
Jed TEO
Marketing Communications, PhillipCapital
e. jedteows@phillip.com.sg
m. 9128 3709